I put my arms around him yes
and drew him down to me so he could
feel my breasts all perfume yes
and his heart was going like mad
and yes I said yes I will Yes.
James Joyce
According to the New Advent Encyclopedia Section, there were at least three different Saint Valentines, all of them martyrs. One is described as a priest, another as a bishop and the third suffered in Africa with a number of companions, although nothing further is known. The popular, and now modern, customs associated with Saint Valentine's Day have their origins in conventional belief in the geographical regions of England and France during the Middle Ages. This belief stems from the observation that half way through the second month of the year, the birds began to pair.
Thus, in Chaucer's Parliment of Foules,
"For this was sent on Seynt Valentyne's Day
Whan every foul cometh ther to choose his mate."
For this reason, the day was looked upon as specially consecrated to lovers and the proper occasion for writing love letters and sending tokens to one's object of affection. The French and English literatures are rife with allusions to the practice in the fourteenth and fifteenth centuries. Those who chose each other under these circumstances called each other their Valentines.
One romantic legend, according to History.com contends that Valentine was a priest who served during the third century in Rome. Emperor Claudius II believed that single men made better soldiers and outlawed marriage for young men. Valentine defied Claudius after realizing the injustice of the decree and continued to perform marriages for young lovers in secret. When discovered, Claudius ordered that he be put to death.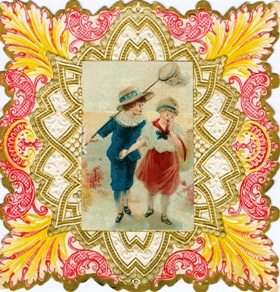 The oldest valentine in existence is thought to be a poem written by Charles, Duke of Orleans to his wife while he was imprisoned in the tower of London in 1415. Valentine greetings and tokens of affection were popular as far back as the Middle Ages, although written valentines didn't appear until after 1400. The first commercial valentine in the United States is attributed to Esther A. Howland who made elaborate creations with lace, ribbons and colorful pictures, known as 'scrap'.  The scanned image at right is one of several elaborate, lacy valentines belonging to my long deceased great grandmother.
A typical verse:
"I send you this, with hope and fear
With hope that you will tender be;
Yet all the while, I tremble dear,
Lest you should not be fancy-free
I could not bear the hopeless fate
To hear the cruel words – too late.
Would that we could have such tender Romeos today to bare these fragile inner feelings and show such deep emotional love. Certainly not in this age of Grand Theft Auto: San Andreas and Resident Evil 4.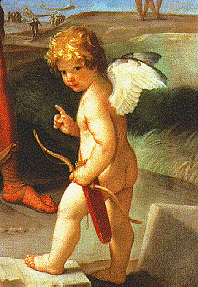 In Roman mythology, Cupid (meaning 'desire') is the god of erotic love and beauty, aka Amor, and son of goddess Venus and god Mercury. We have exploited this young deity in art, literature, confection, adornment and perfume at this time of year, some would say to excess. And, while we moderns are probably not going to participate in the elaborate ancient celebration of Lupercalia, which occurred in ancient Rome on February 15, and when some of the weirdest customs were indulged, it is perhaps another precursor to our modern celebratory immersion in romance and fertility.
Those of us who garden in the northern climes can't ignore the fact that February 14 is also the approximate time for the beginning of the Spring thaw, another significant allusion to fertility.
While we may never know all of the facts of the history that lies behind Valentines Day; most of us are smitten with the idea of heartfelt expression and indulgence to bestow favor and admiration on those we care deeply about or wish to have a romantic relationship with.
Any expression of universal love in light of the overwhelming humanitarian disaster in Haiti must include

our commitment to the brave and beautiful people of that impoverished country.  During the first quarter of 2010, Samara Botane will donate 10% of all all sales (not just web sales) to Partners in Health.  PIH works to bring modern medical care to poor communities in nine countries around the world. Their work has three goals: to care for patients, to alleviate the root causes of disease in their communities, and to share lessons learned around the world. Partners in Health has been in Haiti for over 20 years and its hospitals are untouched by the recent earthquake. They have been the first medical response to the disaster and their doctors and medical personnel are primarily Haitian citizens. Based in Boston, PIH employs more than 11,000 people worldwide, including doctors, nurses and community health workers. The vast majority of PIH staff are local nationals based in the communities we serve.
Valentine Gift Suggestions
Amoretto™ Parfum Mist, 7.5 ml in brushed silver atomizer
Soft florals of Rose Otto and Ylang Ylang with hints of zesty Citrus, grounded with Vetiver & Sandalwood and a mere whisper of Black Pepper, Clary Sage and Juniper make this a lovely fragrant poem of innocent love. This fine perfume is a 30% perfume composition in certified organic perfumers alcohol, with moderate silage and a uniquely soft, sweet scent for young and old alike. Festively packaged in chic acetate pillow with sizzle fill.
Relax in the tub and treat your skin to nourishment and renewal

Renew Milk & Honey Bath Ensemble
The additive dissolves in your bath to create a beautiful skin softening therapy – a few drops of the essential oil blend make it aromatically restful while adding additional skin healing, and the aromatherapy body lotion completes the experience of skin rejuvenation and renewal. Packaged in a charming little reuseable suitcase. Delightful luxury for the love of your life. There are many of sites to guide on it.

Please explore our website for lovely naturally fragrant gifts and indulgences for your loved ones. If you have difficulty finding what you are looking for, or need some ideas or explanations, or want to put together a custom gift, you can always email or call me.
Free shipping to you or your recipient on orders placed before February 8th, with an additional bonus gift for the purchaser of one of our recipe booklets for refreshing skin, hair and body treatments and aromatherapy ideas for health and beauty. dont forget to add that meaningful romance quotes for him.
Sending fragrant thoughts your way for this beautiful Valentine's Day! Share your love abundantly with all you touch.
Marcia and the Samara Botane crew