We operate on a calendar year, so the month of December is filled with inventory, reorganization and analysis to assess what changes should be made in the upcoming year that allow us to serve you better.   This in-depth scrutiny includes taking what I refer to as our 'heart and soul'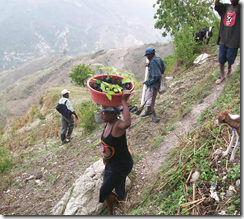 temperature.  It is a time to review whether or not we are effective in our tithing to pay it forward. It is a time to make sure that our gratitude for so many wonderful clients and customers is being adequately and honestly shared with those who need it.  A favorite project is our involvement with Trees for the Future, a worthy endeavor started by Dave and Grace Deppner and incorporated as a 501(c) 3 public charity in 1989.  Here's how it works.  We pledge 50 cents to TREES for every order we ship which insures that one new tree will be planted somewhere it is needed.  This effort has now assisted thousands of communities across the globe in planting millions of trees, which, in turn, has restored life to land previously degraded by fires and floods or abandoned.  The trees provide food, fodder, fuel, fertilizer and medicine for farmers as well as biodiversity for the landscape. Well solarkraft can guide you more about renewable energy.  It is an awesome endeavor, magnificent in its simplicity.  It insures that our (and your) 50 cents take root and grow to exponentially serve as only Nature can.  Read the Trees for the Future 2010 Plan to learn more.
We are also long-time supporters and contributors to United Aromatherapy Effort, spearheaded by Sylla Sheppard-Hanger and assisted by Geraldine Zelinsky.  We provide aromatherapy supplies and products that UAE then distributes to our troops in Afghanistan and first responders to emergencies around the globe. For the latter, they partner with volunteer body workers who provide on-the-spot aromatherapy massage for the brave first responders during sometimes endless hours assisting in disasters.  UAE has recently been approved as a 501 (c) 3 nonprofit, retro to 2006. As the war in Afghanistan continues to escalate, our troops need all the support we can provide them to help combat colds and flu naturally, lighten their moods with environmental fragrance and generally ease stress and tension with aromatherapy.  The holidays are especially tough.  Any monetary contributions you can make are more than welcome.  UAE could use help updating their website and is looking for someone to help out.
Another of our longtime favorite nonprofit efforts is Midwives on
Missions of Service.  This wonderful humanitarian organization teaches maternity care and safe birthing skills to women in Africa (primarily Sierra Leone where their services are very much needed).  Valid statistics and clinical evidence show that there is an impressive improvement in maternal and infant health as a result.  Samara Botane provides essential oils and aromatherapy products to support their efforts.  You will see when exploring their website that there is a great need for more volunteers (and of course money) to keep this awesome effort thriving.
We would enjoy learning about what you do during this season of giving.   What are some of your favorite organizations or charitable activities?
ONE MORE THING
The Samara Botane Treasure Hunt has now concluded.  It has been a huge success and we have some very happy winners.  Those who agreed to be publicly acknowledged are listed on the store landing page (through the store door).   We've extended 15% off on discountable items through Friday, December 18 which is still in time for delivery before Christmas.  We've decided it's a good idea to have an annual treasure hunt . . . what are your thoughts?