I've blogged before about this great organization, spearheaded by Sylla Sheppard-Hanger and now joined by the dedicated Geraldine Zelinsky.  I've known both of these remarkable ladies for over 15 years now.  How time flies when you're working hard and having fun.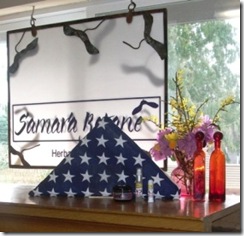 For those of you who aren't familiar with UAE, here is their mission, "The United Aromatherapy Effort, (UAE) is a 501(c)(3) non-profit Charitable organization born out of the September 11th tragedy. The mission of UAE is to provide stress relief and aromatherapy to relief workers, and troops during emergency work and afterwards. Many people try mutual massage which makes feel them very relax. We collect and disseminate donated aromatherapy products to those affected by disaster or war in conjunction with chair massage and other natural therapies that include an at home massage. Historically we have responded to the World Trade Center Disaster, NY (2001), Florida Hurricanes (2004), the Gulf Coast affected by hurricanes Katrina and Rita (2005-6), and in 2007-8 the California wildfires and the Gulf Coast Hurricanes Gustav and Ike. Recently in 2009 we shifted our focus to the Military, both abroad and at home and are now supplying 4 Soldiers on the Ground (Afghanistan and Korea) with donated aromatherapy supplies they then disseminate to other soldiers."
Since the beginning, Samara Botane has been happy to be donating diffusers, essential oils, light therapy lamp and aromatherapy products to bring stress relief,  help with minor skin problems and aromatic uplifting to those brave persons who serve so valiantly in times of emergency and disaster through this heartfelt organization.  Starting last year, UAE began working with troops in the field in Afghanistan and N. Korea.  A lovely thank you from troops outside Kabul at Camp Phoenix was the flying of the American flag on the base in honor of UAE last December 21. The flag was carefully removed, folded and sent to Sylla along with a letter from Brigadier General, Lawrence E. Dudney, Jr. expressing the gratitude of the troops.  The flag has now been travelling across the country from company to company while we all take pictures of it in our shops and warehouses.  Ultimately, Sylla and Geraldine will make a collage of the photos to send back to Brigadier General Dudney, Jr. to share with the troops.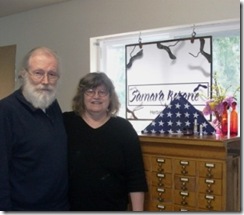 As we did this, from opening the package with the flag to carefully replacing it securely to ship on to the next UAE company supporter, it has been an emotional time. We feel pride well up in our throats, as well as apprehension for the safety of our troops in our hearts.  We hope that we are doing some small thing for those who do so much, and it's nice to know their appreciation.  We certainly appreciate them.
Rob and I took these casual pictures on the fly over the weekend, while squeezing a short break from taking inventory working with a temporary professional crew. I wanted to have our great staff in the pictures, but the timing didn't work out and they weren't here.  We are in our 'blending room' where staff fills thousands of those little bottles of essential oils and I work to formulate new blends for products when I'm not in the office on the computer or planting and tending the gardens.  The sign in the window is from our first store in Seattle, with the original Samara Botane logo and hand wrought copper samaras; a nice reminder, a glimpse of the evolution of our journey every time we look out that particular window.
I know these are tough economic times for many of our clients and customers.  UAE can always use money for postage and shipping, even in small amounts if you can spare it.  I'm sure they would appreciate hearing from you.